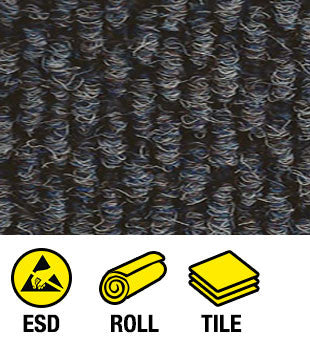 ESD Conductive Carpet Roll and Tile
---
Rolls 2m x 15m (6'6" x 50'); Tiles 50 cm x 50cm (20"x 20") Special order Tiles 100cm x 100cm (40" x 40")
Standard Colors: blue 114; beige 430; silver 220; charcoal 200.
Patterns: ESD NOPAL (BERBER) or ESD DENSEPACK
Misc. Physical Properties
Face fiber type olefin. Face fiber weight 1400 gm/m2 (42 ozs.sy.). Total weight 2.4 Kg/m2 (70 ozs/sy.) Full surface conductive rubber backing contains up to 20% of post-consumer recycled materials.
Non raveling carpets manufactured by double needling technology
| | |
| --- | --- |
| Flammability | DOC FF 1-70 pill test (passes) |
| Acoustical Properties | ASTM C423-68 Noise Reduction Coefficient .25-.35 |
| Abrasion Resistance |  Taber 12,000 revolutions H-10 wheel with 1,000 gm/m2 per wheel |
Note: Products are subject to commercial shade match variations. User must check before installation.
Installation:
Subfloors must be dry (< 3lb/1000 s . per ASTM F1689) (< 80% rH per ASTM F2170) for installation with liquid adhesives or dry adhesives. Concrete sub-floor preparation should conform to ASTM F 710. Follow detailed installation instructions.
For full surface glue-down with liquid adhesive (sub-floors must be absorbent concrete): Uzin KE 2000 SL conductive adhesive (carpet U notched trowel100 s ./gall. spread)
For full surface glue-down over non-absorbent sub-floors (such as epoxy, asbestos, terrazzo, metal, access floor panels, old vinyl or VCT old flooring) or over non-absorbent concrete use Sigaway Electronic 7401-100025 full surface conductive double sided dry adhesive for tiles. Use Sigaway Original 7700 full surface double sided adhesive and a with perimeter of conductive Circui ape 7485 for grounding
Conductive rolls may be loose-lay installed with conductive grommets for grounding
Perimeter taping of rolls is not recommended (carpet can stretch under rolling loads between taped areas).
Maintenance:
Vacuum clean followed by hot water extraction with non-film forming neutral detergents followed by clean water rinsing. Maintenance instructions
Limited Warranty:
Conductive carpet roll and le is warranted for One Year if installed in strict adherence to installation instructions, sub-floor conditions when using recommended adhesives. The conductive carpet is warranted for Five Years against non-conformance to technical specifications or for deterioration of ESD properties under normal conditions of use. Warranty is for replacement of non–conforming product only. No responsibility for the cost of removal or re-installation or freight or consequential damages caused for non-conforming product is assumed by the manufacturer.
---
More from this collection