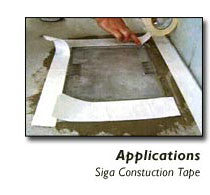 Siga Construction Tape 7300
---
Description

Siga construction tape is a 2" double sided textile re-enforced self stick tape. It has the same high stick on both sides. It is VOC free, free of odors, carcinogens, out-gassing and is totally safe for people. The adhesive is acrylic blend and rubber based, moderately plasticizer resistant, contains no toxins, skin irritants, carcinogens or formaldehydes and has unrestricted waste disposal. Siga construction tape way has the same adhesive strength on both sides.


Availability
SKU 7300-5025
Rolls 2" x 82'6" (5/box) (50 mm x 25m)
Applications
Siga Construction tape is used as a re-enforcing tape which is applied directly to the sub-floor and under the full surface 
Sigaway®
 or 
Sigaway® Electronic
 releasable tapes for re-enforcing seams or perimeters of carpet over carpet installations. It is generally not required for solid vinyl.
Material Safety Data Sheet
See S.D.S. Sigaway Original, Expofix, Construction Tape, Supertape 7900
---
More from this collection